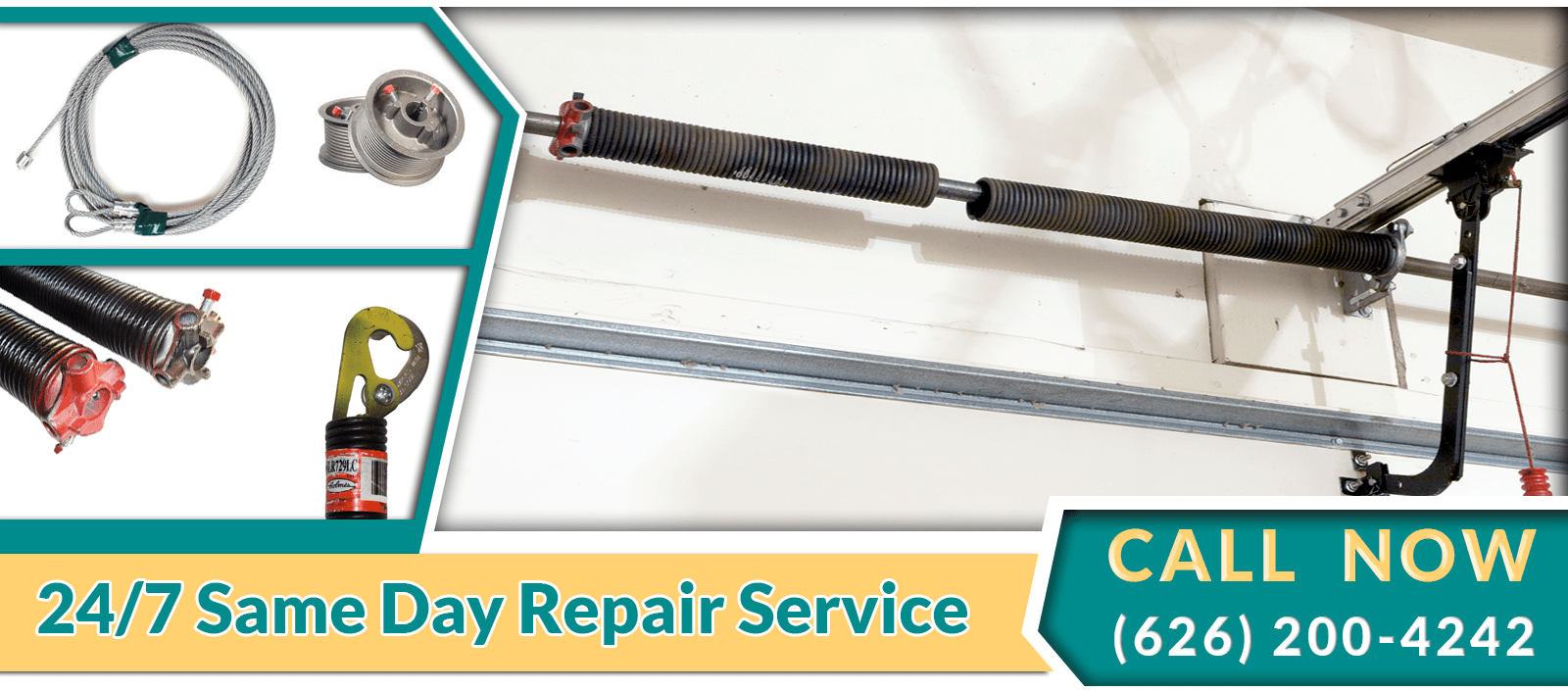 Garage Door Spring Replacement
Call us 24/7 if you need garage door spring replacement in Pasadena CA. When it comes to spring repair requests, our techs respond urgently. The job of springs is to balance the door before they lift it. Should your springs break, you won't be able to open the door. Due to their tension, they can keep it open and lower it down smoothly. If the springs break when the door is still open, the door will collapse.
Why do springs break? They are under a lot of tension. And they last for a particular number of cycles. When they start losing their flexibility and thus power, problems will begin. And they will eventually snap. What they need to remain flexible is lubrication and perhaps some adjustments. But when they break, there is nothing one can do but replace them.
We replace residential and commercial extension and torsion springs. Whether you have a one-piece, roll-up, or sectional door, our techs have the experience to replace its special spring. Each door works with a different spring. They differ in terms of sizes and power and so we carry an assortment of springs in our vans to ensure fast spring replacement.
Contact Us For Same Day Garage Door Spring Replacement.
Rely on our emergency torsion spring replacement. Whether you have one or multiple torsion springs, count on our team to help you urgently. There are several variations among torsion spring systems. There are standard residential and commercial ones, industrial and roll-up door torsion springs. There are also differences between brands. And you can rest assured that our techs have the skills and experience to replace, fix, and install them all. The size and strength of torsion springs vary to meet the needs of doors, which also vary in terms of size and thus weight. So, we carry an assortment of torsion springs with us to replace your broken ones on the spot.
Regardless of the type and number of torsion springs, our techs can replace them. We have the equipment to adjust the springs so that they will have the right tension to move the door. And our team is always available to provide emergency spring replacement 24/7. Call us immediately if the torsion spring suddenly snaps. Regardless of the time and day, the response of our experts from ASAP Garage Door Repair Pasadena will be rapid.
Cables and Drums
Whether you have extension or torsion springs, they connect with cables through the drums. And such parts wear and break too. Our techs bring numerous types of cables and drums along. Cables vary in terms of the size and have different ends as well. They might end at a spool, thimble, or open loop. The type of the lift will also determine the cable drum style. When these parts wear, the cable won't wrap around the drum but will keep coming off. Call us to replace the drums and the broken cable. We have experience and level the door to ensure excellent balance.
Garage Door Spring Replacement Emergency Service
Since the consequences of broken springs are not good, we provide emergency broken spring replacement. We replace torsion springs whether you only have one unit or multiple ones. When it comes to extension springs, our techs replace them both. Although they don't usually break together, relying on one new and one old spring to counterbalance and lift the door is not a good idea. What's special about extension springs is that the sum of their power is equivalent to the door's weight. So if one of the two is weaker, the door won't open straight.
The tension of extension springs can become more dangerous than the tension of torsion springs. And that's because they don't run around a shaft like torsion springs do. If they snap, they will fly in the garage and hurt anyone standing in their way. So, apart from replacing your extension springs, we also suggest installing safety cables. These special cables run through the springs and keep them in place in the event of breakage.
Since the performance of the door depends on springs, we provide emergency service 24/7. When your springs break, just give us a call. If you have any issue with your springs, contact us. We replace and repair springs in a jiffy.
Local Services
We provide local repair service in Pasadena, California whether you have trouble with your springs, cables, or drums. Our techs carry the right tools and replacement parts to cover your needs in a jiffy. Check our about us page to find out more about our company backgrounds and happy customers.Whether you need assistance with your cables and drums or garage door spring replacement, our experts will help urgently.