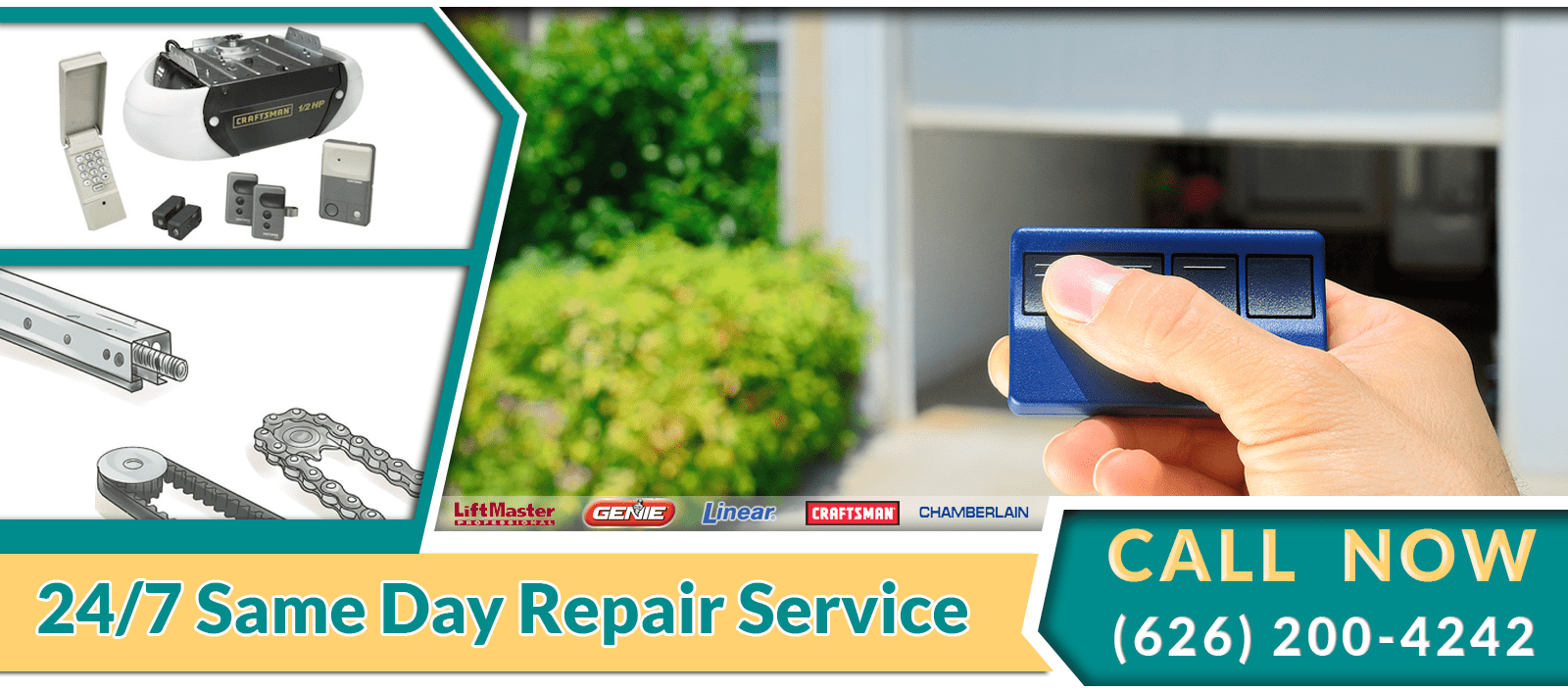 Garage Door Opener Repair Pasadena
There are many garage door opener brands and countless models to meet everyone's needs. Although the initial purpose of electric openers was to provide automatic operation, today this is not all they do. The new technology enables brands to make smart openers and clickers to enhance security, convenience, and safety.
Residential and commercial openers are very different. The latter ones are much stronger since the doors are heavier and open more frequently. In this category, the most common types are trolley operators, but there are also jackshaft, slide and hoist openers. Most homes use trolley openers. These models work with a motor drive. The three of these are the chain, screw, and belt drive.
Up until recently most motors were AC (alternating current). Today, more and more motors are DC (direct current). DC motors work better with new age openers, which also have a backup battery. They have become very popular because they support soft start and stop movement and provide quiet operation.
Safety & quality service are our first priority
Over the years, openers change to increase the level of security, the comfort of the users, and people's safety. Asap garage door repair Pasadena CA makes progress along the way. We don't merely install new openers but make sure our clients have the ideal system for their garage door. When we maintain and fix your opener, we always check the reverse system to make sure you are safe. And our techs never stop honing their skills in accordance with the latest opener models. Hence, we have the skills and experience you expect from professional techs.
Contact Us 24/7 For Garage Door Opener Repairs
It's not always easy for you to tell which symptoms indicate opener problems. But one thing is for sure. The door won't operate right. So call our pros if your garage door is:
Not coming all the way down
Not moving all the way up
Keeps reversing
Flashing its lights repeatedly
Noisy or silent when the motor operates
Not reversing when there is an obstruction
Whether you bought the opener from Sears or it's a Marantec model, trust us to fix it. Our techs can fix any Craftsman opener, the latest Liftmaster and Chamberlain models, and all openers by Genie.
When you need our help urgently, count on our 24 hour opener service. We start by diagnosing the problem in order to fix the opener accurately. Our service might include the adjustment of the travel limit setting but also the adjustment of the chain, the alignment of the sensors, or the replacement of the sprockets. We arrive with repair parts in our trucks, ready to fix any opener problem.
New Opener Installation Enhances Safety & Security
With new opener installation, you get the chance to use high-tech systems and even control the door from a distance. You can get openers, which connect to the home automation system, and enable you to open the door with the smartphone. With motion detection lighting, backup batteries, smart clickers, automatic-close functionality, and many more great features, your life changes.
When you are ready to take the step and replace the old opener, we will be here to help. Our pros can replace and install any type of opener made by any brand. We stock some of the best models in our vans to replace your opener in no time. With experience in the most high tech openers on the market, our techs have the opener installation skills to ensure a great job. If you need help choosing an opener, or need advice for your new garage door installation and parts just ask us. We will be happy to assist you.
Want to replace the remote and opener parts? Rely on our service
We offer emergency remote clicker replacement. If your clicker is broken or missing, call us. If there is a possibility that someone stole your remote, our first task is to cancel its code to prevent a break-in. If there is a problem with the clicker, call us to check it. We do any repair work to fix the remote or other opener parts. But if they wear and cannot perform right, our techs can replace them too. Call us to replace the clicker, the sensors, the motor, the gears, and any other part of your opener.
Good opener operation depends on the quality of both the product and services. And our team can guarantee both. When you are in need of garage door opener services, don't hesitate to contact us.