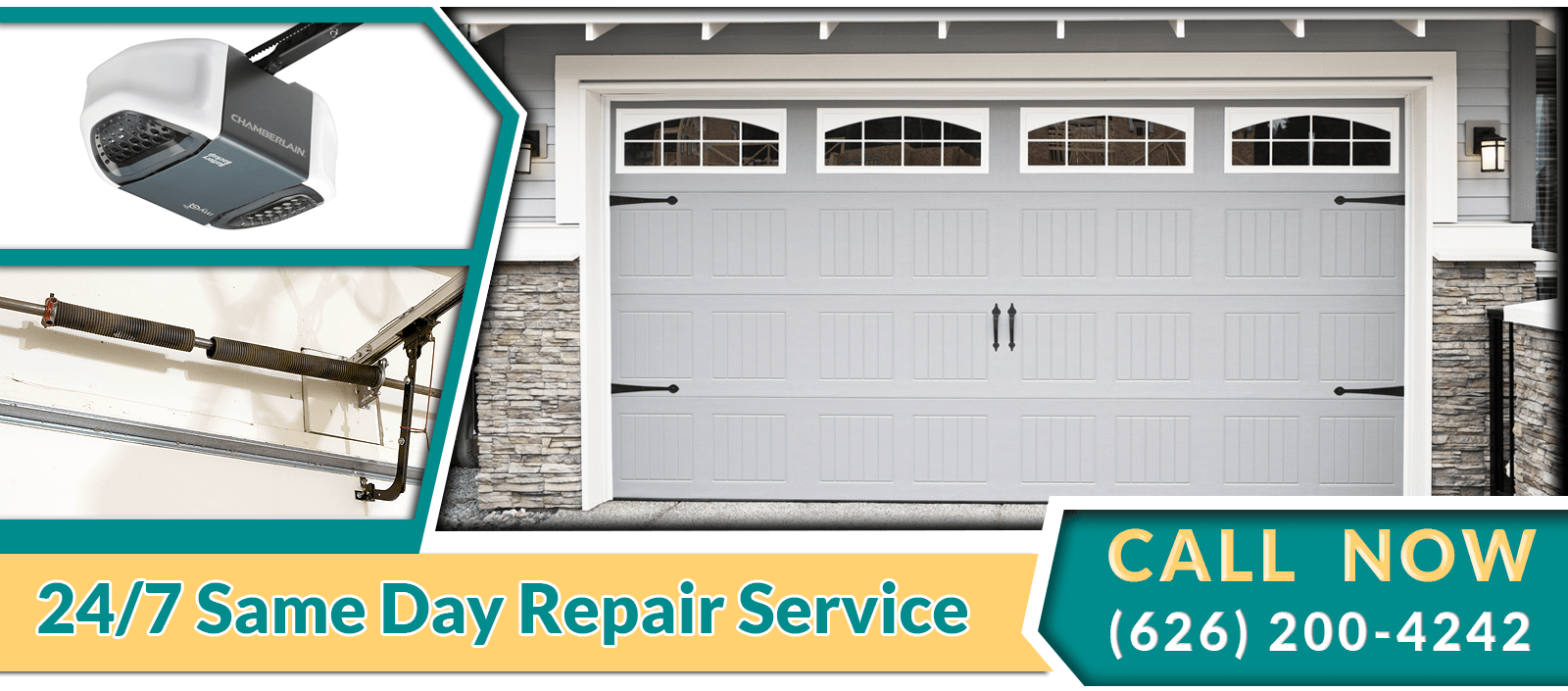 ASAP Garage Door Repair Pasadena CA
Garage doors consist of many parts. At one point, they will wear or break down. And when this moment comes, ASAP Garage Door Repair Pasadena CA will stand by to help you. With quality services, we guarantee your convenience and safety. Without regular maintenance and quick repair work, garage systems won't be reliable. The door might not open, come down, or move at the right pace. With daily use and elements taking their toll, parts corrode, fall out of alignment, wear, and break.Our techs are ready to offer services and will respond fast when you need our help. There are replacement parts in our vans and so we can do any repair work right away. With expertise in troubleshooting and the best equipment in hand, our pros diagnose problems with accuracy. We make adjustments, replace parts, align components, and do whatever is necessary to ensure the door is in perfect working order again.
Emergency Garage Door Repair Pasadena
As a 24 hour garage door repair Pasadena CA company, we cover your emergency needs around the clock. Garage Door problems will compromise the security of your property. When there are opener problems, your safety might be at stake. From overhead and one-piece doors to commercial sectional doors and rollups, we take care of all types of doors. We carry the necessary spares to replace the spring, fix the cable, repair the automatic opener, align the track, and make sure your door is functional and you are safe. Accidents are never planned, nor do they tend to occur during convenient times.  ASAP Garage Door Repair Pasadena offers the fastest, most reliable emergency services in Pasadena and surrounding areas.
Spring Replacement
We provide Garage Door spring replacement urgently. When springs break, the door doesn't open. Our technicians can repair and replace both extension and torsion springs whether for commercial or home use. Whether you have one pair of extension springs or multiple torsion springs, rely on our experience. We can repair and replace springs in a jiffy. If you need emergency broken spring replacement, Call us 24/7. There are spares in our trucks and so our pros can replace the spring of any door in no time.
Cable Repair
Along with torsion springs, garage door cables are one of the most common repairs we see. Because these components see heavy use, they eventually wear down and must be replaced.If the cables wear out, our cable repair experts can replace them along with the springs. If your cables snap, contact us to replace them now. Cables have a tendency to loosen up, especially if they wear or their drum is not in good condition. We can fix the cable alone but we can also entirely replace the broken cable and the drum.Depending on what kind of garage door you have (aluminum, wood, commercial), replacing the cable and drum will increase the longevity of your door, make it run faster, and cut down on noise when operating it.
Automatic Opener Repair
Opener problems are serious because they can compromise your safety. If the door is not coming down, the opener lights are flashing, or the motor makes noise, call us. Get in touch with our experts today should your remote is not working right or is missing. We have openers, clickers, and spare parts in our trucks and can replace them in no time.We are specialized to fix, maintain, replace, and install any brand. If you have a trolley opener, trust that we can service chain, belt, and screw drive motors. Since we are also commercial door specialists, we also fix jackshaft and hoist openers. We provide service for universal and also all major garage door opener brands such as:
Genie
Liftmaster
Chamberlain
Craftsman
Service Areas For Garage Door Repair Pasadena
Tired of searching garage door repair near me? There are lots of overhead garage door company or repairman but you can trust that ASAP Garage Door Repair Pasadena will get the job done quickly no matter what you need. With expertise in all major brands and full commitment to your needs, we offer services to ensure working systems and client safety. We are based in Pasadena CA 91107, but provide service to the Greater Los Angeles Area. Check our sister company "Dream garage door & Gate" serving nation wide. Many years experience working with major garage door manufacturers is what we proud of and what made us the best service provider in the market for any type of materials such as aluminum garage doors and contemporary garage doors.
Garage door services that we provide include but not limited to:
Overhead door repair & installation
Garage door opener services
Wayne Dalton garage doors repair & services
Services for roll up doors
Residential & Commercial door repair